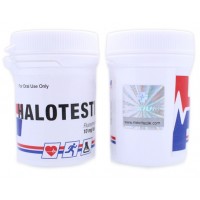 New
Halotestin 10mg 50tab
Handelsnamen: Halotestin
Chemische namen: Fluoxymesterone
Routes: mondeling
Halfwaardetijd: 9,5 uur
Halotestin is een zeer krachtige orale anabole steroïde die voor het eerst werd beschreven in 1956. Zijn androgene eigenschappen zijn vijf keer meer dan die van methyltestosteron, maar de anabole effecten worden in vergelijking als matig beschouwd. Dit maakt het een erg populair medicijn waarbij krachttoename vereist is. Halotestin is echter niet het ideale medicijn waar spiergroei vereist is, maar het is nog steeds erg populair onder competitieve bodybuilders vanwege het onvermogen om aromatase in oestrogeen te verwerken. Dit suggereert dat typische oestrogene bijwerkingen zoals het vasthouden van water en gynocomastie geen probleem zouden moeten zijn bij het gebruik van dit medicijn. Het ontbreken van een opgeblazen gevoel in combinatie met de toename van de spierdichtheid maakt dit het perfecte medicijn om de spierdefinitie te verbeteren tijdens cycli vóór de wedstrijd Halotestin wordt ook gebruikt door atleten waar minimale gewichtstoename en maximale prestaties gewenst zijn. Bijvoorbeeld; boksers, gewichtheffers, powerlifters en worstelaars. Veel atleten in deze explosieve krachtsporten geven zelfs specifiek de voorkeur aan sterk androgene medicijnen zoals fluoxymesteron vanwege hun vermeende grotere capaciteiten om agressie en de competitieve drive te ondersteunen. Hoewel Halotestin geen oestrogene bijwerkingen vertoont, zijn androgene bijwerkingen nog steeds heel gebruikelijk bij deze stof, en kunnen aanvallen van een vette huid, acne, haargroei op het lichaam / gezicht, haaruitval en agressie omvatten. Levertoxiciteit is ook van groot belang en Halotestin is waarschijnlijk een van de meest giftige orale steroïden wanneer mg voor mg wordt vergeleken met andere zoals Anapolon of Winstrol. Het gebruik van leverondersteunende supplementen wordt sterk aanbevolen. Een effectieve orale dagelijkse dosering zou binnen het bereik van 10 tot 40 mg vallen, in te nemen in cycli die niet langer dan 6 tot 8 weken duren om hepatotoxiciteit te minimaliseren. Dit niveau is voldoende voor een meetbare toename van de spierkracht, die gepaard kan gaan met een bescheiden toename van de droge spiermassa. Het wordt niet aanbevolen voor vrouwelijke atleten, omdat viriliserende effecten zijn opgemerkt bij lage doseringen van 10 tot 15 mg.
Unlimited Blocks, Tabs or Accordions with any HTML content can be assigned to any individual product or to certain groups of products, like entire categories, brands, products with specific options, attributes, price range, etc. You can indicate any criteria via the advanced product assignment mechanism and only those products matching your criteria will display the modules.
Also, any module can be selectively activated per device (desktop/tablet/phone), customer login status and other criteria. Imagine the possibilities.
Brand: Nexium
Model:

Halotestin

Weight:

0.00kg