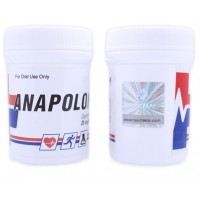 New
Oxymetholone 25mg, 100tab
Handelsnamen: Anapolon
Chemische namen: Oxymetholone
Routes: mondeling
Halfwaardetijd: 8-9 uur
Anapolon is een zeer krachtige orale steroïde die in de jaren zestig door Zoltan is ontwikkeld. Het wordt door veel bodybuilders beschouwd als het ultieme medicijn voor massaopbouw. Dit opmerkelijke vermogen om de spiermassa te vergroten heeft echter een prijs en het belangrijkste nadeel van deze steroïde is het aantal en de ernst van de bijwerkingen die ermee gepaard gaan. Zowat elke bijwerking die verband houdt met het gebruik van steroïden, zal waarschijnlijk worden ervaren tijdens het gebruik van dit medicijn. De meest ernstige zijn naar mijn mening de toxische effecten van Anapolon op de lever. Men moet echter rekening houden met het doseringsbereik voor dit medicijn. Anapolon wordt ingenomen in doseringen tussen 50 en 150 mg per dag, terwijl vele andere zoals Dianabol en Winstrol worden ingenomen in doseringen van 10 tot 40 mg per dag. Dit maakt een directe vergelijking onmogelijk en het is zeer waarschijnlijk dat 150 mg Winstrol net zo giftig, zo niet schadelijker zal zijn. De meest gebruikelijke dagelijkse dosis Anapolon is 100 mg, maar zelfs bij die dosering worden bijwerkingen zoals het vasthouden van water, verhoogde bloeddruk, acne, haaruitval, veranderingen in de bloedstolling, gynocomastie, levertoxiciteit en stemmingswisselingen zeer vaak gemeld. Het gebruik van aromataseremmers om oestrogeenaromatisering onder controle te houden, zal niet effectief zijn omdat dit medicijn niet direct in oestrogeen wordt omgezet. Er werd gesuggereerd dat oxymetholone de oestrogeenreceptor kan activeren, vergelijkbaar met, maar dieper dan het oestrogene androgeen methandriol. Supplementen zoals Mariadistel kunnen worden ingenomen om de leverenzymspiegels tussen veilige bereiken te houden. Bij correct en verantwoord gebruik vormt Anapolon een geweldige aanvulling op elke ophopende cyclus. De beste resultaten worden gezien wanneer Anapolon wordt gestapeld in combinatie met andere injecteerbare steroïden. Anapolon is een geweldige kickstart voor een ophopende cyclus en wordt normaal gesproken gebruikt tijdens de eerste 3 tot 4 weken van de cyclus. Vermijd het gebruik van andere orale steroïden in dezelfde stapel, omdat in combinatie met andere 17-alfa-gealkyleerde verbindingen de hepatotoxische effecten onmogelijk te beheersen zijn en ernstige leverschade kan optreden. Een dosering van 1-2 mg per kilogram lichaamsgewicht is een goed uitgangspunt, maar ik raad dit medicijn niet aan voor beginnende steroïdengebruikers en ze kunnen Dianabol beter als een kickstart bekijken. Een afname van het gewicht wordt vaak ervaren wanneer er wordt overgeschakeld van de kickstartfase naar de rest van de cyclus, maar dit is waarschijnlijk alleen het watergewicht en zou geen probleem moeten zijn.
Unlimited Blocks, Tabs or Accordions with any HTML content can be assigned to any individual product or to certain groups of products, like entire categories, brands, products with specific options, attributes, price range, etc. You can indicate any criteria via the advanced product assignment mechanism and only those products matching your criteria will display the modules.
Also, any module can be selectively activated per device (desktop/tablet/phone), customer login status and other criteria. Imagine the possibilities.
Brand: Nexium
Model:

Oxymetholone

Weight:

0.00kg